Harbour Light (Central Foyer upper floor)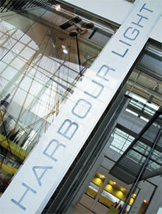 Harbour Light is a new restaurant with service, opened in January 2008. It is located between Halls A1 and A4, with décor including typical Hamburg features such as seagulls, water and waves – a convincing concept in cheerful, colourful design. It has a varied menu based on the "Cook and Chill" concept, and relating to Hamburg's attractions. "Harbour Light" has space for more than 230 people, and is ideal for good eating and drinking, and for cultivating business contacts in a relaxed atmosphere far from the hustle and bustle of the fair.
Mercadillo (Halle B6)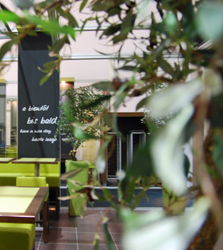 Mercadillo is a self-service restaurant in free-flow design, with friendly market-place character and modern, open-plan architecture. It is located in Hall B6 and has space for more than 200 customers.
It offers a wide range of cross-over cuisine, and an enormous selection of drinks and desserts to meet every wish. This Käfer outlet stands for a completely new generation of trade fair restaurants.
Restaurant Kiel (Hall B3 ground floor)
Kiel is a self-service restaurant on the ground floor of Hall B3, with space for a total of 120 customers. The room has modern, straightforward layout, with various decorative elements. It is designed to give customers a good view of what is going on at the Fair.
It provides various individual dishes of the day, and a wide range of salads, soups, snacks, pasta, and steaks from the grill. Its open character, lively atmosphere and speedy service make it ideal for a tasty snack or a full meal to set you up for the rest of the day at the fair.
Pickup (Halls A3, A4 and B7)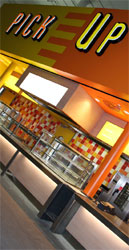 PickUp is a modern snack bar in Halls A3, A4 and B7. Customers can watch the preparation of meals at the spacious counter areas, and can see the wide range of drinks and coffee specialities.
The customer areas to the left and right of the counter give customers the opportunity to consume their snacks and drinks in a relaxed atmosphere at cocktail tables. The warm, inviting orange and yellow colours give a cheerful, feel-good atmosphere.