New Photo Exhibition at Hamburg Fair Halls: "Tropic Ice"
From May 18 until October 22, 2017 the outside walls of the Hamburg fair halls became the city's longest art gallery for the fourth time – right in the heart of Hamburg. An exhibition of works by photographer Barbara Dombrowski titled "Tropic Ice – Dialog between Places Affected by Climate Change" was on display. What made this exhibit special is the fact that it could be viewed by day and by night – by anyone walking past the glass facade of the exhibition hall along Karolinenstrasse. The artist, Barbara Dombrowski, has been studying places affected by climate change and their indigenous populations. She arranges her large-format portraits and landscape photos to establish interrelationships between them, weaving a web that connects places and individuals.
Three questions for Barbara Dombrowski
1. Why call your exhibition "Tropic Ice"?
Climate change is a really important topic to me. I have been working at selected places that are relevant for climate change and studied their indigenous populations for several years. These people are caught in the middle between their ancient traditions and the globalized present. Their existence and their environment are threatened directly or indirectly by the effects of climate change. The Amazon rain forest and Greenland are two examples. Within the global climate system they are among those regions that will suffer from irreversible effects of future climate changes as global warming progresses. This is the background for the title of this exhibit.
2. How did you come up with the idea for these unusual photos?
The first two stations of my journey took me to the Amazon rainforest in Ecuador, the Earth's lung, as well as to Eastern Greenland in the Arctic. As a result of this work I felt the desire to link these two extremes in a single, installation-type exhibition. So in the summer of 2013 I returned to both regions, bringing along large-format prints. By showing these photos in both places – the place where I had taken them and the respective other one – I was able to integrate them into these environments in an entirely new fashion, thereby building a bridge between the two cultures.
3. Will there be a sequel to this exhibition?
Following this first phase – which focused on two places representing the continents of the Americas and Europe – I decided to continue my work by visiting the three remaining inhabited continents, Africa, Asia and Australia. To complete the journey I will organize an installation exhibition covering all continents at the foot of mount Kilimanjaro. Through this exhibition, I want the people I photographed become ambassadors of their respective regions, climate zones and continents. By combining the pictures from all these individual cultures, I will complete the circle symbolically. I would like to extend this art project across all the people around the world so they can use it to support climate protection.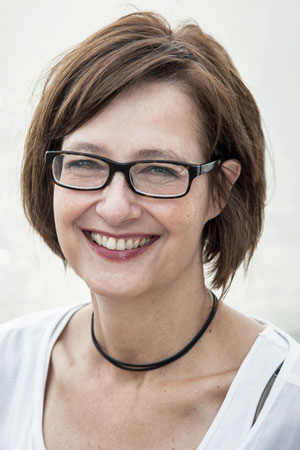 About Barbara Dombrowski
I am a Hamburg-based photographer who has been living with and of photography for the past 20 years. Following my studies in Visual Communications at Dortmund University of Applied Sciences as well as an art scholarship that enabled me to spend four years in Paris, I began working as a primarily journalistic and portrait photographer for many reputable magazines, relief organizations and other customers. During my professional life I have realized numerous independent photographic art projects, all of them focused on people and the reality of their lives. My work has been shown in various exhibitions and earned a number of awards. These highly personal photographs are what drives my creative work.